Catch all the pulling action from the Phoenix pull and any other future pulls on Sunday afternoon and evenings on MavTV. Channel 214 for Direct TV and Channel 248 on Dish Network. Local cable also carrys MavTV. Check your local guide.
Pics from Wildhorse Pass Pull in Phoenix, AZ in March 2014
Team Apparel page added for T-shirt and Hat sales !!!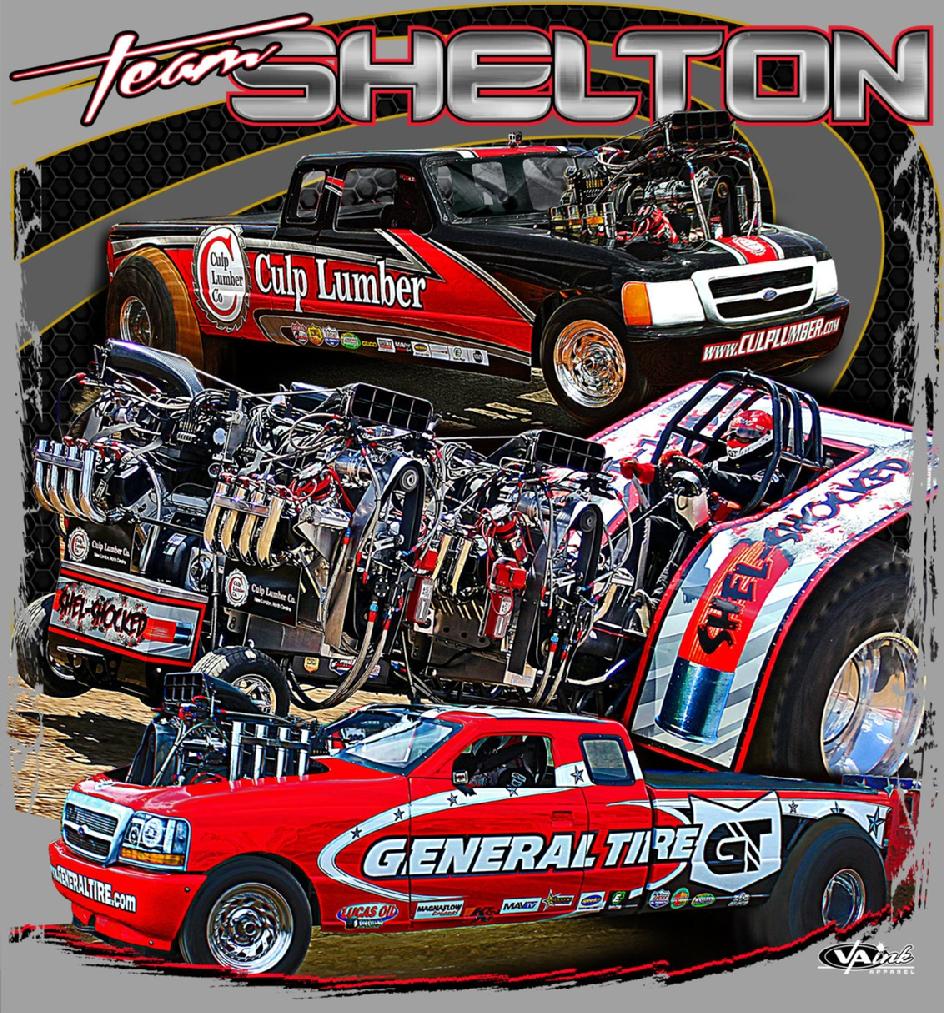 We finally have some new Team Shelton t-shirts for 2014. We'll add a merchandise page real soon for anyone interested in a team t-shirt or hat.
Sorry about the delay in keeping up with how we ended out the season.
Team SVS came out of Hamburg on an emotional high after Grayson got his first career win on the Lucas Oil Champions Tour. Our next two events were in Waynesburg, PA with the trucks and the Tour Finals in Wheatland, MO to close out the season.
Grayson did a great job in finishing out the season with consistant runs which landed him a top 5 in points with the Culp Lumber sponsored "Sawmill Express" truck class and I also managed a strong top 5 finish with the "Shel-Shocked Mod".
After we closed out the competition part of the season we did some team displays at a few events to help raise some funds and awareness for some great causes. We displayed for the Hospice of Stanly County Fundraiser in our local community of Albemarle, NC, we also traveled to Joplin, MO for the 4 States "Chrome Shop Mafia" fundraiser that benefited victims from the tornado damage a few years ago. All great causes and great people.
We also did a display at General Tire headquarters in Fort Mill, SC on race week in the Charlotte area for a special employee benefit that General Tire and Continental Tire put on for their 300 loyal employees. I was the one that benefited the most because I got to sign autographs beside King Richard Petty himself for 2 hours for all the employees. A really great time indeed.
Winter teardown has already begun around the shop. All 4 engines off of Shel-Shocked have been taken off and ready for some TLC. Plus, we have already taken the big hemi out of the General Tire "Cutting Edge" and have it disassembled and doing routine winter freshening on it. Look for a new design chassis under the GT "Cutting Edge" for 2014 as Reese Shelton will be getting his chance to guide the reigns of that beast after turning 16 in December. Hopefully the brother tandem can work some magic in 2014 and get both the Culp Lumber "Sawmill Express and the General Tire "Cutting Edge" into the top 5.
As a reminder, the Lucas Oil Pro Pulling League is on TV almost every Sunday afternoon on MavTV or NBC sports network. Please check your local listings for dates and times or simply go to www.ProPulling.com for updates.
West Coast pullng fans !!! We are coming your way. Lucas Oil Pro Pulling League is coming to Phoenix, AZ on March 15-16, 2014. Event will be held at the Wildhorse Motorsports Park which was formaly Firebird Raceway Park. They'll be laying down 400 feet of dirt on the NHRA drag strip for us to lay down some serious horsepower in Arizona. Make plans to attend and see our entire team there.
| | |
| --- | --- |
| Crew shot from Wheatland 2013 event. Reese, Grayson, Warren, and Micheal ready for some action | Continental / General Tire employee event in 2013. From left to right: Stan Shelton, Spencer Robinson (Marketing for General Tire), and of course the "King" Richard Petty |
Updated 8/20/2013 ( Hamburg, NY )
Team work, Team work, Team work !!!
Everybody knows it takes a team to make things happen and come together and thats just what happened in Hamburg NY this past weekend.
All of our pulling machines were packed tightly into our hauler this past weekend including 1 bicycle for Camille and we headed north to Hamburg NY for a 2 day show at the Erie County Fair just south of Buffalo, NY. Tom Lamb and the fair board bring the Lucas Oil Pro Pulling circuit to the fans of NY each year and do an outstanding job.
We even managed to get Amy to join us and miss a weekend at the beach. ( Would have been raining down there anyway ) Ha!
We are nearing the end of the season and points races are tightening up in every class. Shel-Shocked would draw the first hook in the E3 Sparkplug sponsered Multi-engine class. Tractor made an awesome pass to 350 but the officials thought the sled needed to be tightened up so we dropped to last in hopes of returning for another strong pass. However, after getting the tractor prepped for another pass, it was discovered that our front gearbox between the front two engines had an issue and we would not be able to return. Bummer and some other choice words may have been used.
Well now it was time get past the issue that Shel-Shocked had and move on to concentrating on the trucks that were hooking after the Mods.
Sometimes when you get Lemon's you make Lemonade and we did just that. The Culp Lumber "Sawmill Express" was about the 15th hook in a class of 20+ trucks and the General Tire "Cutting Edge" was even further near the back of the pack. The sun had gone down and the moisture was coming up and the track was the best it could have been when Grayson rolled onto the track in the Sawmill Express.
Grayson's driving skills has been improving with every pass during the year and tonight he would make that perfect pass and park the Culp Lumber "Sawmill Express" past the Full Pull mark and eventually win his first major event.
The winning run couldn't have come at a better time with all the family together at this event but team work was what made it happen that night and the next night when he backed up the winning run with solid top 4 finish the following night.
Team work also prevailed as we all got up early Saturday morning and knew that not only did we have alot of our normal vehicle maintanance to do but that we had to pull the front two engines off of Shel-Shocked and replace the gearbox that had issues. Not only did we get that done, Reese even had time to shine up all the vehicles and get them to show quality like he worked so hard on all weekend.
Shel-Shocked bounced back into action on Saturday night with a runner-up finish which capped off a great weekend for our team.
Also thanks to Camille for her hard work to video all of our runs that has helped us gain some valuable information to better the team.
We get a much needed break from pulling for the next few weeks before we finish out the season in Wheatland, MO and Waynesburg, PA in September.
Some photos from the weekend below. Some photos were taken and are credited to Jeff Luckey Photo at jeffluckeyphoto.com
Updated 8/20/2013 ( Hillsboro, WI )
Team traveled up to CheeseLand on the weeekend of Aug 9-10 for the Hillsboro Charity Pull in Hillsboro, WI that is promoted by the Don Slama Family.
Wonderful cool weather with bright sunshine greeted us as we rolled in to the event. The Slama family and the Hillsboro community has transformed this event into one of the best facilities and events we attend all year. Lucas Oil Studios were on site to film all the action for later viewing on MavTV.
Only the Shel-Shocked Mod was scheduled for this weekend so we had some extra room on the trailer for the grill. We were excited to have long time team crewman John Pickler join us again and keep the grill burning all weekend with some great food. Steaks, Pork chops were a welcome to all of us from the normal cold sandwich routine.
Shel-Shocked performed well each night and ended up 5th both nights for the TV cameras. Just didn't have what it took this weekend to get to the top.
A trackside view from new series sponsor ION camera is posted below.
Next stop for the team is Hamburg NY just outside of Buffalo.
Updated: 8/13/2013 ( Altamont, IL and Indy Super Pull )
Our team traveled to Altamont, IL on the first weekend in August for a Friday night show with the trucks and then we headed on over to the Indy Super Pull at the Indiana State Fair in Indianapolis, IN on Sunday.
Grayson did a great job with the trucks in Altamont. He finished 10th with the General Tire "Cutting Edge" and made an even better pass with the Culp Lumber "Sawmill Express" to finish 3rd.
The Indy Super Pull proved to be a little more tricky with the trucks and we were off on our setup on both trucks but still ended up a respectable 11th and 13th.
Shel-Shocked finally got to hit the track again at the Indy Super Pull and grab some TV air time. We managed a 3rd place finish with it and a podium appearance for a great team photo for TV.
Update from our trip to Hillsboro, WI coming soon.
Updated: 7/29/2013 (Goshen, IN and Evansville, IN)
Whew !!!!!!!!!!!!!!! if we aren't humping it in the shop keeping everything running we are working hard at the events trying to get better. ( Plus dodging rain drops this year ).
This past week we headed to northern Indiana for the Elkhart Fair in Goshen, IN on Thursday. One of the nicest fairs we attend all year. Camille and I wore out some corn on the cob and we got some great help the entire weekend from Reese and Taylor.
Grayson ran both the trucks in the afternoon session and finished 4th and 6th and Shel-Shocked ran the evening session and finished 4th.
This event was filmed for TV.
After a great time in Goshen, IN we headed south to another wonderful time in Evansville, IN about 6 hours south. We have to say a special thanks to our wonderful loyal friends from the KY / IN area that brought us a wonderful pan of fresh baked cookies for good luck and yes they did bring us luck.
On what turned out to be a misty night for pulling, Shel-Shocked findly found its way back to the winners circle. We have always struggled to get good finishes with the trucks at Evansville and this night proved to be no different. Grayson did a great job of driving but our tune-up just didn't match up to what the track conditions wanted.
After the misty rain we brought alot of Evansville dirt back to NC on the vehicles and in the trailer. The crew spent lots of time already this week just getting the vehicles cleaned up.
This week we are off to Altamont, IL on Friday night with the Trucks and then onto the Indiana State Fair in Indianapolis, IN for a Sunday show.
Update Oak Harbor, OH ( July 20 )
Headed 11 hours north up to Oak Harbor, OH with both trucks for Saturday night show. We arrived on grounds around midnight on Friday night. It decided to rain about 4 inches while we slept.
Event was called off early Saturday morning. UGH !!!!!!!!!!!!!!!!!!!!!!!!!!!!!!!!!
We have been rained out 3 times in Ohio this summer.
Update on Freeport and Fairfield, IL (July 11-13):
Good food and fellowship with fellow competitor Joe and Carla Eder from New York.
Lots of gremlins to work out at Freeport with new tires and rough ride on first night and throttle cables coming off before we ran on second night and only had 3 engines running.
Loaded up and headed toward Fairfield, IL 6 hours south and had 2 flat tires on trailer half the way there at 2am. 4 hours later we were back on the road. Made it to event at 9am and wore out. Thanks to good friends Keith and Ricky Long for staying with us on the side of the road until we got going again.
Had better night at Fairfield with Shel-Shocked. 3rd hook in class and made a nice pass to 350 feet. Sled was reset after our pass so we dropped to last and made another nice pass to finish 4th.
Grayson was tapped to drive both the General Tire "Cutting Edge" and the Culp Lumber "Sawmill Express" at Fairfield to give him some more seat time. He did a great job with both.
Luckily we made it home with no more flat tires.
Rain, Rain, please leave Thursday, Friday, and Saturdays alone for a while if you don't mind.
We headed up to Georgetown, OH this past Saturday and once again got rained out before show time. Thanks to Promoter Bob Neal and his crew for giving it a shot and even telling the pullers they would try and have the pull with no crowd coming because of the rain if the pullers really wanted them too. Not many promoters in this country willing to lose that kind of $ to keep the pullers happy. Thank you for the nice gesture Bob.
Even though it was a rainout, we had alot of fun spending time with old friends and pullers from NTPA that we don't see that much during the summer.
We pitted beside good friend Doug Lively from State Center, IA and his "Bank Robber" four engine Mod who is currently leading the points series in NTPA. Grayson got to help them unload the four engine beast. Big seat to fill in that Mod with Doug being about 6' 5". Grayson still needs to grown alittle to reach the pedals on that one.
Next stop for our team is Freeport, IL for a Thursday-Friday show with Shel-Shocked and then travel down to Fairfield, IL for a Saturday night show with the Mod and the trucks. We have this weekend off to help catch up on a little TLC that the hauler needs before we head back out the middle of next week.
Took Shel-Shocked up to Greenville, OH for the Ohio State Championships this past Saturday night but Mother Nature had other plans. It was a beautiful day until about 4pm with the Thunder began to crack and the rain came down and down. Hopefully that is our only rainout of the year. Thank you to the Barga family that promotes the event for trying their best to make it happen.
We will head back up to Ohio this weekend to Georgetown, OH with both trucks on Saturday night to rub elbows and fellowship with some old friends on the NTPA circuit.
Since I have no video to post I thought it would be a good time to promote a product from our good friends and sponsor General Tire. I just put on a new set of the Off Road General Tire "Grabbers" on my Ford F-150 4x4. Great looking tire and turns alot of heads when people see them. Ask your local General Tire dealer about them or go to GeneralTire.com and use the dealer locator to find a dealer near you.
Hauler was fully loaded this past weekend when the team headed up to Wilmington, OH for a Saturday night only show with all three vehicles. Not our best outing with the Culp Lumber "Sawmill Express" or the "General Tire" Cutting Edge trucks. Stan was early in the class of 21 vehicles and realized pretty quickly that the track was alot better than we anticipated and ended up going out of bounds with such a light frontend. Grayson hooked later in the class but also proved to be too light on the nose and ended up 17th. Our team has some work to do in the next few weeks to fabricate some added space for some addtional weight to be moved up front on the trucks. Congrats to Donnie Sullivan and Team Sullivan out of Warsaw, IN on the win.
Shel-Shocked made its 2013 debut in the heavily competitive Multi-Engine Modified tractor class. Shel-Shocked was the 2nd hook in the class out of a total of 11 entires and made a nice straight and respective pass for the first time out in 2013 to finish up 6th with a 322 foot pass. Congrats to Steve Bunnage and Bunnage Motorsports out of Golden Gate, IL on the win.
Team heads back out for another trip to the Buckeye State this Saturday for the Ohio State Championship pull Greenville, OH that benefits JDRF.
Only Shel-Shocked will be making this trip. The trucks have the weekend off.
Recap video of Wilmington OH is below.
Our team had a good start to the season in Franklin, KY over the past weekend. The event was rained out on Friday night before our class was able to compete. On Saturday night we ended up with both vehicles making strong consistant passes. Grayson finished 5th with the General Tire "Cutting Edge" and Stan finished 7th with the Culp Lumber "Sawmill Express". A total of 20 vehicles competed in the class. Congrats to Jared Nelson and the Midnight Revenger out of Altamont, IL on the Win.
Highlight team video below with on board action as well. Plus link to complete class below that thanks to "Lets Go Pulling". Our next event will be June 15 in Wilmington, OH.
Ready...Set...Go... for 2013 !!!
2013 "Lucas Oil Pro Pulling League Circuit" kicks off this weekend in Franklin, KY for the TS Performance Outlaw Pull. We have had a busy off season in the shop. We resurrected an old friend in the "Sawmill Express" to once again give our team a two vehicle punch in the Optima Batteries Super Modified Two-Wheel Drive class. A completely new chassis, body, and engine combination were assembled in our New London, NC based shop by our entire crew over the winter. Grayson will be piloting the General Tire "Cutting Edge" and Stan will be behind the wheel of the Culp Lumber "Sawmill Express".
The Twd combo will be the only vehicles out of our stable competing this weekend. We are starting a late process in the shop of freshening up the "Shel-Shocked" Mod for its 2013 debut the middle of June in Ohio.
If you would like to create your own Fantasy Pulling team for the 2013 season. Go to the newly created FantasyPulling.com and pick your favorite vehicles in each class to create your own Championship lineup and see how you do throughout the year.
Keep up to date on pulling info and results at: ProPulling.com and Milesbeyond300.com
Some 2012 season video's below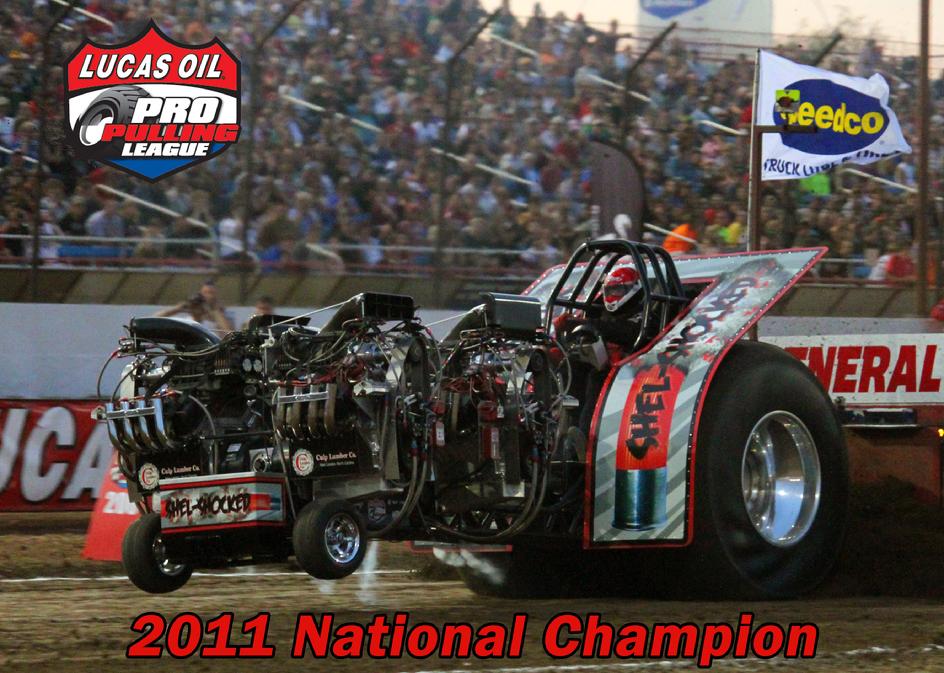 2011 Title Clinching run at "Lucas Oil Speedway" on Sept 10th. Photo supplied by Jesse Post with jppullingproductions.webs.com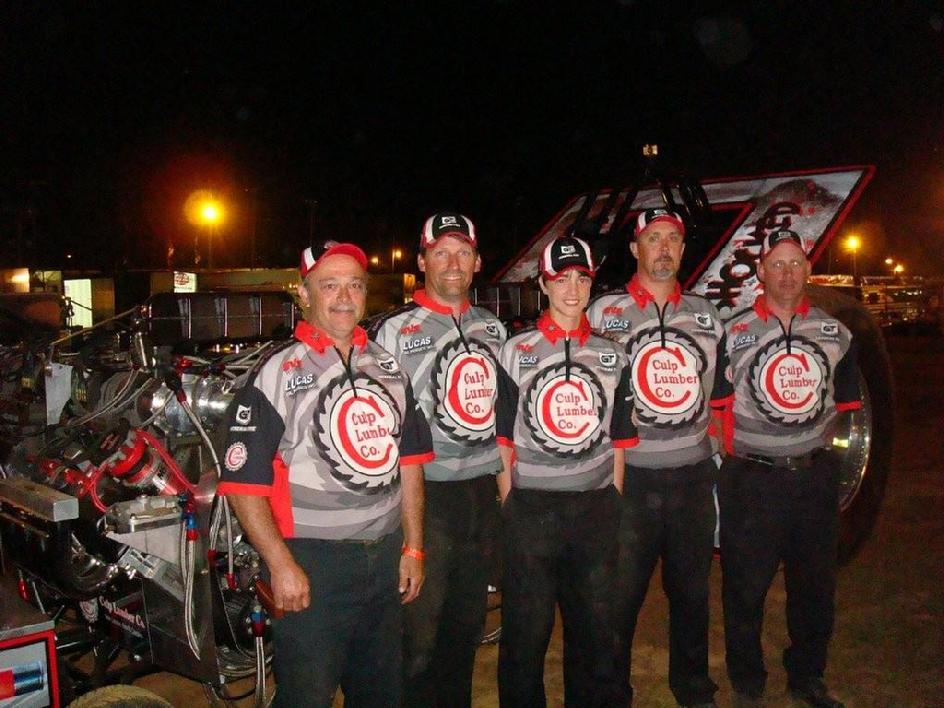 Excited crew after first victory with "Shel-Shocked" in Saluda, SC. Photo by: Chrissy Chandler
1/26/2011 Winter work update.

General Tire "Cutting Edge" is freshened and ready for trip to Louisville, KY in a few weeks. Focus is now turning toward getting all Mod parts serviced so we are ready to assemble as soon as the chassis arrives.
| | | |
| --- | --- | --- |
| Humpco billet carrier and reverser ready to go. Anybody want to suggest what ring and pinion to use ? | Fresh cut on tires from Chad @ Hoosier Tire Cutting. | Tearing down Mod engine for service |
| | | |
| --- | --- | --- |
| Bare head ready for new springs and fresh grounded valves. | Goodson air spring changer a must if doing your own head work. | After installing valve, compress spring and retainer to install valve keeper to lock valve to spring. |
| | | |
| --- | --- | --- |
| Valves and springs back in and ready to install on block. | More child labor, Reese helped drill some new block plates after a cold morning of Duck hunting. | O where, O where, could that chassis be... O where, O where, could it be...Anybody got that Engler dudes # ? Ha! Ha! |
Winter time work in progress

Only 5 weeks until the team heads north to compete a the "National Farm Machinery Show" indoors at Freedom Hall in Louisville Kentucky. We have gotten the GT "Cutting Edge" out of the trailer and in the shop for some freshening of the engine and chassis for the 2011 season. The new chassis for "Shel-Shocked" is starting to take shape at Engler Machine in Indiana. We hope to have it in our shop to began complete assembly by mid February.
| | |
| --- | --- |
| | Nerd blower stripping the new rage !!! |
| | |
| --- | --- |
| Cutting Edge bullet ready for re-assembly | Free child labor to put the bed and cab back on. Cooper, Taylor, Reese, and Grayson helped out. |
| | |
| --- | --- |
| Freshened Hemi headed back in the hole. | Where is my hood ? It's cold in here. |
| | |
| --- | --- |
| Up close and personal with Mr. 557 | Aerial few inside shop. Hang on to the ladder Warren and don't look down. Ha!!! |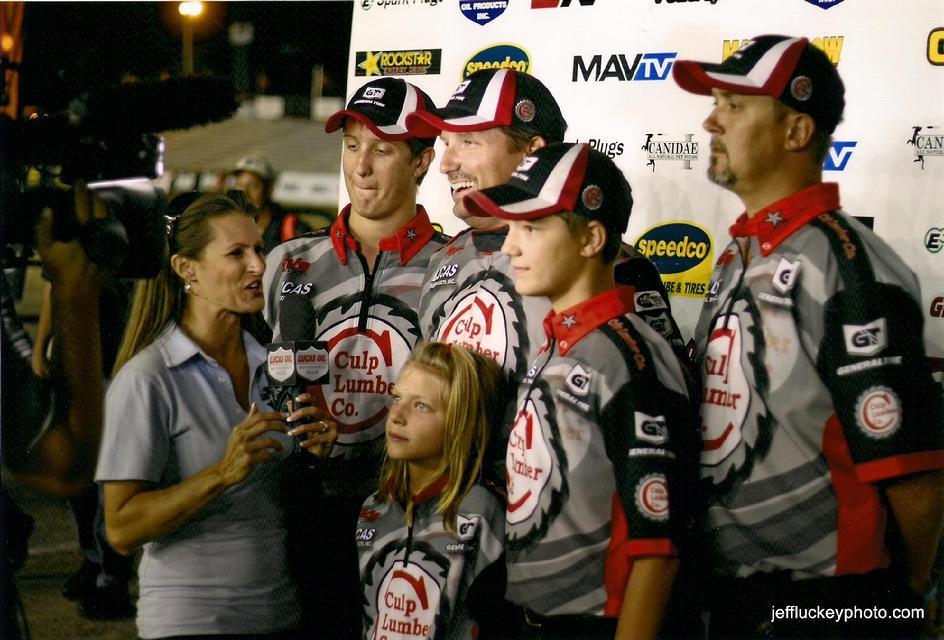 Photo of team soaking up some TV time after a big win in Hamburg, NY just outside of Buffalo.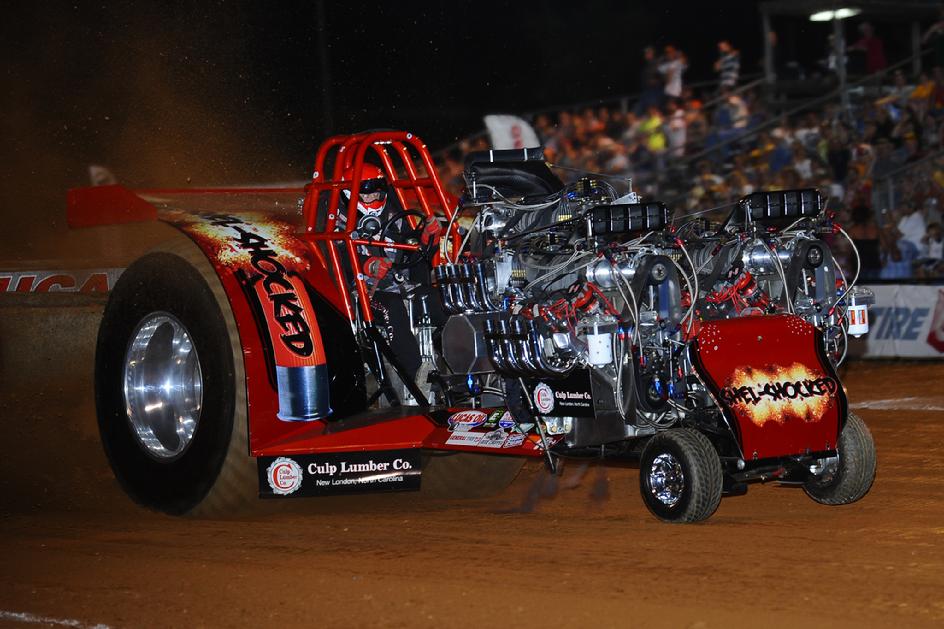 2009 Knoxville, TN
"Shel-Shocked" Multi-Engine Tractor to be converted to "Fully Loaded" mode for 2010. After a great experience in our first year of competing in the Pro Pulling League Champions Tour Mod class. We are currently in the process of coverting the chassis and engines to compete with "Four" supercharged hemi's on board in 2010 instead of three. Rules allow for either 3 engines with 14-71 superchargers or 4 engines with smaller 8-71 superchargers. We plan on making several exhibition passes this winter to shake down the new combination before the first points hook in Knoxville,TN in June of 2010. Some shop photos of the conversion process are below. We will continue to update as the process continues.
| | | |
| --- | --- | --- |
| Chassis with 4 engine gearbox | 4 engine cradle added | Single speed reverser to replace 3 speed transmission to save weight |
| | | |
| --- | --- | --- |
| Change rearend ratio for 4 engine combo | Increase fuel capacity for 4 engine combo with large tank on front | What a mess !!! |
| | | |
| --- | --- | --- |
| Replaced 14-71 superchargers with smaller 8-71's | Mounted front two engines for mockup. | Confirmed fuel tank clearance of engines |
| | | |
| --- | --- | --- |
| Installed collector style headers between engines for easy removal of valve covers for maintance. | Fresh 3 disc clutch installed on fourth engine | Replaced steel clutch cans with Browell Aluminum cans for a 20lb savings per engine. |
| | | |
| --- | --- | --- |
| Engine #3 mounted | Freshened planetary from Humpco installed in rear | Fuel tank hinged for access to valve covers on front two engines |
| | | |
| --- | --- | --- |
| Drivers compartment ready | Engine #4 mounted | Tires remounted. Glad it was my turn to hold the camera. Ha! |
| | | |
| --- | --- | --- |
| Late night first weigh in.. How much did it weigh ? | Crew said driver has to loose weight or start drilling holes. | Driver figures out its easier to remove oil filters and adapters for 7.5 lb per engine than drilling holes. |
| | | |
| --- | --- | --- |
| Installed Stroud gearbox safety blanket | 5 lb savings per cover to switch to black magnesium valve covers instead of polished aluminum style | Installed SAE 4 engine safety kill switch |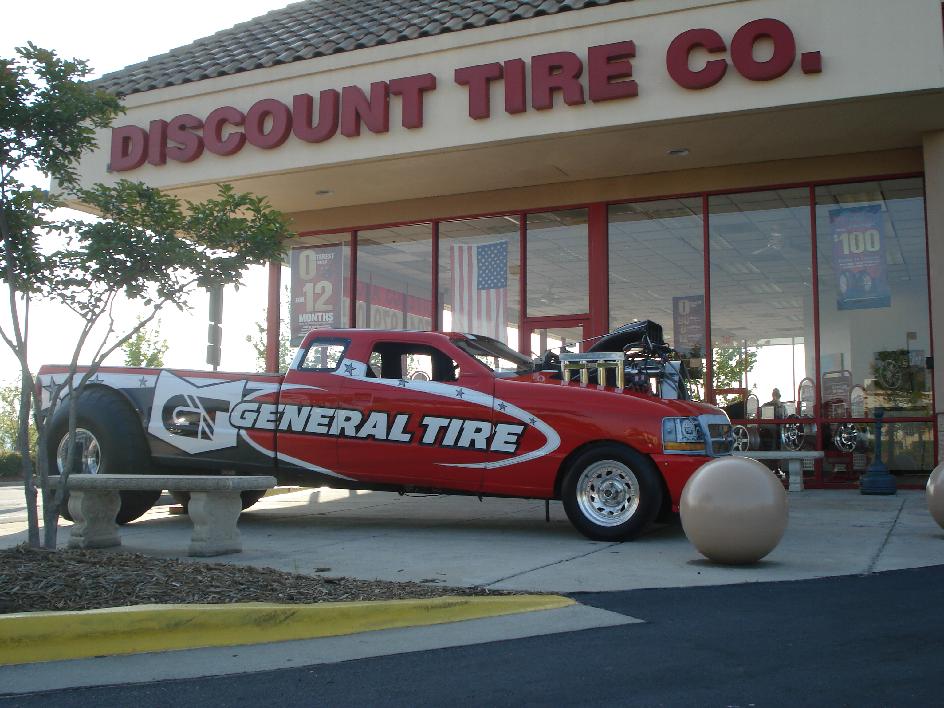 Recent display at a nation wide General Tire distributor "Discount Tire"